Ultra Slim 45W 600x600 LED Light PanelLike
FOB Price
:
Certification
:
RoHSCE
Min.Order
:
100
Brief Description
:
600X600mm led light panel 1)45w SMD 3528 0.06W 2)led light panel passed :CE RoHS 3)3 years warranty 4)Factory price
Manufacturer
5th
Shenzhen Guangdong China
No.of Staffs
:
101 - 500 People
Sales Volume
:
Above US$100 Million
Payment Terms
:
L/C T/T Others
Related Product Category
:
Lighting Panel [137]
---
Product Range Main products
:
LED Tube, LED Ceiling Light, LED Bulb, LED Spotlight, LED PAR Light, LED Jewelry Light
Target Market(s)
:
North America; Oceania; Southeast Asia; Eastern Europe; Hong Kong/ Macao/ Taiwan; Latin America; Japan & Korea; Mainland China; Western & Southern Europe; Northern Europe; Central & Southern Asia; Middle East
Product Details
Company Profile
Basic Specification
Detail Description
600X600mm led light panel
1)45w SMD 3528 0.06W
2)LED light panel passed :CE RoHS
3)3 years warranty
4)Factory price
Product name:600x600 LED Light Panel

Dimension

600x600x14mm

Input Voltage

AC100-240V

Working Voltage

24VDC

LED Style

SMD 3528 0.06W

 

Power Consumption

45w(9w to 72w is available)

Luminous Flux

2600-2800lm

Color Temperature

5300-7000K(Cool white)

2700-3300K(Warm white)

Color

neutral white/daylight white

Life Time

50000 Hours

Operating Temperature

-10°C to +40°C

Storage Temperature

-20°C to +85°C

Humidity Operating

10-80%

Humidity Storage

10-80%

Luminosity

1050Lux(1.0Meter, daylight

white,45W)

Certifications

CE,RoHS

Weight

5.0kg

IP Code

IP44

Fixing Ways

Recessed,Mounted,Suspended
Features
1) Apply the high lumen SMD3528 as light source to insure high luminous flux and conformity light output,600Lux at 1m distance
2) Ideal replacement for tube lights and grill lights. 70% energy-saving
3) Suspending by links,ceiling and surface mounted are available
4) Elegant design by smooth aluminum frame and PC cover
5) Instant start, no flickering
| | | | | | |
| --- | --- | --- | --- | --- | --- |
| Power | Size(mm) | Dimensions | Voltage | Lumen | Color |
| 8W | 180x180x14 | L179xW179xH18mm | AC 100-240V 50/60Hz | 500-600Lm | 2700K-6300K |
| 9W | 200x200x14 | L198xW198xH14mm | AC 100-240V 50/60Hz | 550-700Lm | 2700K-6300K |
| 10W | 180x180x14 | L255xW255xH24mm | AC 100-240V 50/60Hz | 600-700Lm | 2700K-6300K |
| 16W | 300x300x14 | L298xW298xH14mm | AC 100-240V 50/60Hz | 1000-1100Lm | 2700K-6300K |
| 45W | 300x1200x14 | L298xW1198xH14mm | AC 100-240V 50/60Hz | 2600-2800Lm | 2700K-6300K |
| 48w | 600x600x14 | L598xW598xH14mm | AC 100-240V 50/60Hz | 3100-3300Lm | 2700K-6300K |
| 72w | 600x1200x14 | 1195x595x95 mm | AC 100-240V 50/60Hz | 6100-6300Lm | 2700K-6300K |
Notes:
1. In the ceiling above the two into a linear order (linear dimensions 135 X135mm) round stainless steel screws fixed davit;
2. The lifting wildebeest screwed to the frame;
3. Angle of the stainless steel hoisting rope horse through the tangle;
4. And then hanging from the cord into the stainless steel clamping lock on it.
5. Description:
The lamp IP40, does not have the waterproof function;
Do not use to extend the service life of alcohol and other volatile solvents to clean the lamp body;
Cleaning cloth moistened with soapy water using soft wipe after wringing light body;
Non-professionals do not overhaul lamps;
The lamp power constant current power supply for the dedicated adapter, do not replace the power supply without permission.
Led light panel maybe you have interest in
led light panel of Opening sketch:
B: lifting (hoisting) Installation
Schematic diagram
Packing
Carton: L675xW235xH655mm (5PCS/box)
Single Light Weight: 0.8Kg
Gross weight: 4.2Kg
Advantages
1. Ultra-thin design. The external use anodized aluminium alloy to show elegance and luxury. It has both good lighting effects and beautiful appearance.
2. This series of products using low-power LED chip to avoid highly concentrated heat and using highly efficient thermal conductive silicone pad to prolong lamp life.
3. Unique luminous design of using high permeability light guide plate to form a uniform soft yet bright illumination.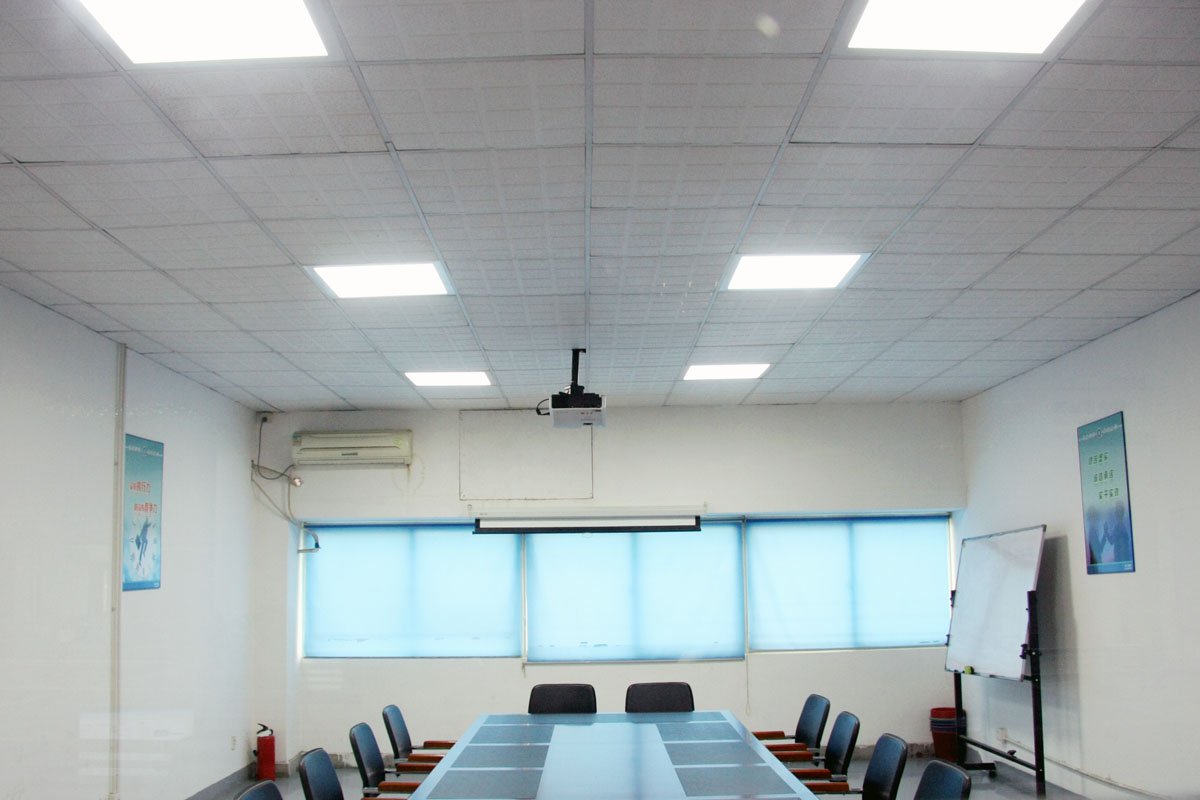 Additional Information
| | |
| --- | --- |
| Payment Terms | L/C, T/T, Others |
| Minimum Order | 100 |
| Lead Time Delivery Time | 15 days |
| Sample Available | Yes |
| FOB Port | Shenzhen |
| Target Market(s) | Central & Southern Asia, Eastern Europe, Hong Kong/ Macao/ Taiwan, Japan & Korea, Latin America, Mainland China, Middle East, North America, Northern Europe, Southeast Asia |
About Us
Sundopt LED Lighting Co., Ltd.
Sundopt LED Lighting Co., Ltd. is a high-tech enterprise which is specialized in development, production and marketing of indoor LED lighting products. We are established in 2004 and awarded as vice president enterprise by Shenzhen LED Industrial Association in 2010. Our main products include LED tube, LED ceiling light, LED track light, LED bulbs, LED spotlight, LED PAR lamp etc. Our products have been highly approved by customers from Europe, North America, and Australia for its excellent quality. Our company is located in Shenzhen city, we own a R center, factory, and professional sales team.R CenterThanks to our Optical engineers, Electrical engineers and light fixture engineers whom are working in R center, we can release several new developments every month. FactoryWe own standard dust-free workshop and more than 100 skilled workers, Our factory has been certified by ISO9001: 2008. All our products comply with CE, RoHS standard, we are also working on UL certification now. We always follow a strict quality system, so as to provide customer with high quality products. Sales teamOur professional sales team is always ready to help our customers, to bring suitable, high quality products and excellent service to our customers.
General Information
| | |
| --- | --- |
| Year of Establishment | 2004 |
| Capital | US$50 Million - US$100 Million |
| Sales Volume | Above US$100 Million |
| Brand Name | SUNDOPT |
Export Information
| | |
| --- | --- |
| Export Year | 2008 |
| Export Percentage | 31% - 40% |
| Delivery Time | 10 days |
| Minimum Order Quantity | 1PC |
| Payment Terms | L/C T/T Others |
Productivity Information
| | |
| --- | --- |
| Production Lines | 6 lines |
| Factory Size | 2,500 square meters |
| Investment on Manufacturing Equipments | US$10 Million - US$50 Million |
| No. of Staffs | 101 - 500 People |
| No. of R/D Staffs | 11 - 20 People |
| No. of Engineers | 11 - 20 People |
| No. of QC Staffs | 11 - 20 People |