phone battery Mobile Power Bank 3200mah Capacity, portable batteryLike
FOB Price
:
Get Latest Price
Model
:
XY-32000
Certification
:
ROHSCE
Capable
:
FCC,PSE,UL,CCC
Min.Order
:
500
Brief Description
:
Extra-long standby feature Different tips for all your portable devices Anti-scratch surface LED battery status indicators... Capacity: 3200mA
Manufacturer
3rd
Shenzhen Guangdong China
No.of Staffs
:
101 - 500 People
Sales Volume
:
US$1 Million - US$2.5 Million
Monthly Capacity
:
1,000,000PCS
OEM/ODM Availability
:
BOTH
Payment Terms
:
L/C T/T Others
Related Product Category
:
Power Bank [421]
---
Product Range Main products
:
Android TV Box, Android smart player, HD Media Player, HDD Player, IPTV, Mobile Power, HDD Enclosure, USB MINI Speaker
Target Market(s)
:
North America; Oceania; Southeast Asia; Eastern Europe; Africa(except Middle East); Hong Kong/ Macao/ Taiwan; Latin America; Japan & Korea; Mainland China; Western & Southern Europe; Northern Europe; Central & Southern Asia; Middle East
Product Details
Company Profile
Basic Specification
Market
:
For Australia/New Zealand, For Brazil, For E.U., For Italy, For UK, For USA/Canada, Other
Use
:
Electric, Emergency / Portable, Travel
Detail Description
3200mah mobile power bank for mobile phone,Charger for iphone,MP3/MP4,PSP,NDS,ipod,ipad
FITS FOR Mobile phone,MP3/MP4,PSP,NDS,ipod,iphone,ipad…
Spec:
1. Battery Type: Li-Polymer Battery
2. Capacity:3200mAh
3. Input:Micro USB 5V/1000mA(Max)
4. Output: USB 5V/1000mA(Max)
5. Dimension:83X80X17.5mm
6. Weight:90g
Fits for:Mobile phone,MP3/MP4,PSP,NDS,ipod,iphone,ipad…
Standard Accessories:
1,1 USB spring cable.
2,1 Apple Connector
3,1 Mini USB Connector
4,1 micro USB connector
Optional Accessories:
1,10 PCS Mobile Phone connectors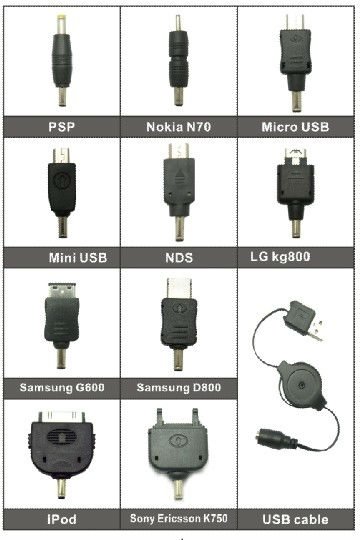 Portable Power for notebook with high quality and cheapest prices
Have ONE year warranty
Delivery time is 3-10 days.
We use A-class quality cells,every cell must pass strictly capacity grading procedure.
Our every PCB must pass strictly test, until them reach to 100% compliant.
We carry on QC test for every finished product,to assure every battery can be charged and discharged 1000 times again and again.
We have got CE and ROHS certification.
Our team carry out management as require of 9001/2000.
Additional Information
| | |
| --- | --- |
| Payment Terms | T/T, L/C, Others |
| Minimum Order | 500 |
| Lead Time Delivery Time | 12 days |
| Sample Available | Yes Ask For Sample |
| Delivery Details | EXW & FOB available |
| Loading Info | BY express, by air, by sea |
| Packing Info | 50pcs/carton |
| Target Market(s) | Africa(except Middle East), Central & Southern Asia, Eastern Europe, Hong Kong/ Macao/ Taiwan, Japan & Korea, Latin America, Mainland China, Middle East, North America, Northern Europe, Oceania, Southeast Asia, Western & Southern Europe |
About Us
ZENITH TECHNOLOGY CO., LIMITED
ZENITH TECHNOLOGY CO., LIMITED profileGeneralSince 2004, ZENITH TECH has been dedicating itself in developing, manufacturing and marketing of consumer electronics. Our products range covers Power Bank, MID, Android TV Box (Newest and popular), HD media player, Mobile Power, HDD enclosure, USB mini speaker and relative IT products. FactoryZENITH TECH launched its own assembly factory. Sophisticated managers together with experienced workers allow us to satisfy our business partners all over the world in efficiency. The strong backup from our own design house assures of high quality and creation.MarketingZENITH TECH has wide cooperation relationship with numerous brands and big distributors all over the world. We are keen to build up a tightly double-win platform to share with each other through our continuous resource optimization. You will find easy, comfortable, and prosperous to cooperate with usService & AdvantageA:Sales service time24 hours for one day, 6 days for one week to supply completely service for your any time.B:Quality service1. 100% quality testing for every finished products before delivery;2. Professional Aging testing room for aging testing time over 8 hours. 3. Professional function testing for every process.4. Two years warranty service for products from ZENITH TECHC:Delivery Service1. Export standard , safety and environmental packing2. Quick lead time for mass production.3. Accept EXW, FOB, CIF and other price termsD:Technical Service1. Professional Engineering supplies technical supporting2. Support OEM, ODM projectE:Factory capacity1. 2000 square meters factory area2. 4 production flow lines with correct operation instruction.3. Professional testing labs4. Full sets of the certificates and patents5. The annual production capacity more than one million sets
General Information
| | |
| --- | --- |
| Year of Establishment | 2004 |
| Capital | Below US$100 Thousand |
| Sales Volume | US$1 Million - US$2.5 Million |
Export Information
| | |
| --- | --- |
| Export Year | 2005 |
| Export Percentage | 61% - 70% |
| Delivery Time | 10 days |
| Minimum Order Quantity | 100PCS |
| Payment Terms | L/C T/T Others |
Productivity Information
| | |
| --- | --- |
| Production Lines | 4 lines |
| Factory Size | 2,000 square meters |
| Monthly Capacity | 1,000,000PCS |
| Investment on Manufacturing Equipments | Below US$100 Thousand |
| No. of Staffs | 101 - 500 People |
| No. of R/D Staffs | 11 - 20 People |
| No. of Engineers | 5 - 10 People |
| No. of QC Staffs | 11 - 20 People |
Factory Info: Zenith Technology Co., LTD
| | |
| --- | --- |
| Country/Region | Shenzhen, Guangdong, China |
| Address | No.4 Building, Baoshu Technopark, Baotian Industrial Zone, Bao'an |
| Zip | 518000 |
| Factory Introduction | ZENITH TECH Factory IntroductionR&D capactity:Loaded at State Industry Base of Digital Home Application and Demonstration in Guangzhou, which is biggest develop center in china. We focus on develop Multi-Media Digital Products and Digital Home Products.We accept OEM, ODM projectTest Equipment:1.Salt spray testing chamber 2.Dielectric Voltage Withstand Test 3.Experiment simulating transportation4.high and low temperature test Production Capacity:1. 2000 square meters factory area2. 4 production flow lines with correct operation instruction.3. Professional testing labs4. Full sets of the certificates and patents5. The annual production capacity more than one million setsQuality Control:1.Full Function Inspection: 3 Times 2.ALL Accessories 100% testing3.PCBA aging testing time: 8 hours4.Finished products aging testing time: 4 hours |