Large Clear PVC Tent For 3000 Person Event Manufacturer ChinaLike
FOB Price
USD 36.0-80.0/Square Meter Get Latest Price
Model
LH50
Certification
Germany DIN4102 B1 flame retardant certificate, Australia Certificate of Adequacy for Design of Temporary Structures, California Registered Flame Resistant Product, America Structural Safety Calculation
Capable
United Kingdom BS 7837,France NFP 92503/M2
Min.Order
1set
Brand Name
LIRI
Brief Description
1. size: 50m clear PVC tent for party.2. roof cover and walls are made of clear PVC fabric, unforgetable wedding in the beautiful scenery
John Zhou
Contact Now
Contact Manufacturer
John Zhou
Manufacturer
9th
Zhuhai Guangdong China
No.of Staffs
501 - 1000 People
Sales Volume
US$10 Million - US$50 Million
Monthly Capacity
100,000 square meter
OEM/ODM Availability
BOTH
Payment Terms
L/C T/T Western Union Others
Related Product Category
Big Tent [474]
---
Product Range Main products
Aluminium Tent,Event Tent,Wedding Tent,Party Tent,Warehouse Tent,Trade Show Tent,Marquee
Target Market(s)
North America; Oceania; Southeast Asia; Eastern Europe; Africa(except Middle East); Hong Kong/ Macao/ Taiwan; Latin America; Japan & Korea; Middle East & South Asia; Mainland China; Western & Southern Europe; Northern Europe; Central & Southern Asia; Middle East
Product Details
Company Profile
Basic Specification
| | |
| --- | --- |
| frame | aluminium alloy 6061/T6 |
| flame retardant | Germany DIN4102 B1, M2 |
| application | party, event, ceremony |
| colors | transparent |
| fabric | double PVC-coated polyester textile |
| Frame Material | Aluminium Alloy |
| Scaffold Material | Aluminum Alloy |
| Knock Down or Not | No |
| Operation Mode | Manual |
| Tent Surface | Waterproof Over 3000MM |
| Usage | Party Tent, Trade Show Tent |
| Color | Colorful |
Detail Description
Large Clear PVC Tent For 3000 Person Event Manufacturer China
(Provided by Liri Tent)
Do you want to buy one Large Clear PVC Tent for mutil-functions? Such as for wedding, churh, exhibition, new products show, church, event center. if so, we have the perfect space solutions for you as below:
1. Specification about the Large Clear PVC Tent
Liri Big Tent Series:
Type

Span Width

Bay Distance

Eave Height

Ridge Height

Main Profile

EBT

20m

5m

3.88m

7.2m

256x121x5mm(4-channel)

EBT

25m

5m

3.88m

8.0m

256x121x5mm(4-channel)

EBT

30m

5m

3.88m

8.9m

256x121x5mm(4-channel)

LH

30m

5m

3.88m

8.9m

350x120x5mm(4-channel)

LH

40m

5m

3.88m

10.5m

350x120x5mm(4-channel)

LH

50m

5m

3.88m

12m

350x120x5mm(4-channel)

LH

60m

5m

3.88m

13.6m

350x120x5mm(4-channel)




The length can be extended by 5m bay such as 15m,20m,30m,40m...Customized size or shape is available.
Frame struss: hard pressed extruded aluminium 6061/T6(15HW) which can last more than 20 years.
Fabric cover: high quality double PVC-coated polyester textile, 100% waterproof, flame retardant to DIN4102 B1, M2, CFM, UV resistant, tear resistant, self-cleaning ability, etc.
Connector: strong hot-dip galvanized steel
Allowed temperature condition: -30 degree Celsius~+70 degree Celsius
Wind load: max. 100km/h (can be reinforced)
Snow load: 75kg/sqm (snow can't stay if use big degree roof pitch design)

Easy to be assembled and dismantled, movable.

No pole inside, 100% available interior space.
2. Fixing Methods of Large Clear PVC Tent
3. Accessories of Our Large Clear PVC Tent
Covers: colourful cover, transparent cover, inflatable roof cover
Windows: dome or square clear PVC windows, mesh window, glass window for glass wall
Wooden Flooring System: VIP cassette flooring, simple cassette flooring
Doors: double-wing glass door, single-wing glass door, glass fire door, aluminium door, rolling shutter(automatic or manual)
Wall: soft PVC fabric wall, glass wall, ABS hard wall, sandwich panel wall, steel plate wall
Fixing Methods: ground anchors, weight plate, expandable bolts
Rain Gutters:inner roof beam rain gutter or rain gutter between two similar tents
Other Optional Items: table, chair, lighting, AC, carpet, installation tools etc.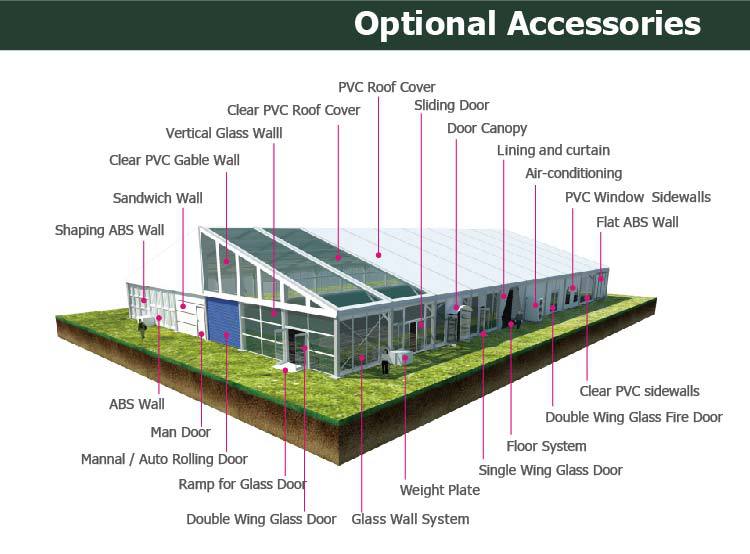 4. The application of the Large Clear PVC Tent
Widely used as wedding marquee tent, event tent, party tent, festival tent, racing tent, sports tent, outdoor exhibition tent, tradeshow tent, warehouse tent, storage tent, outdoor activity marquee tent, and tent hire business, event design business, military solution, temporary warehouse and workshop etc.
6. Apart from the Large Clear PVC Tent, the Liri Full Series Tent

The clear span of our tents is from 3m to 80m and available in A shapes, dome shapes, square pagoda shapes, gazebo tent, arcum shape tent, curve shape tent, double decker structure, high peak conversions, hexagonal, octagonal, decagonal and more. We have the perfect temporary or permanent space solutions for all your outdoor events.
7. Why Choose LIRI Tents as the Large Clear PVC Tent Marquee supplier?
8. The professional Large Clear PVC Tent supplier - Liri Tent Company Profile
Liri Tent Technology (Zhuhai) Co., Ltd. Was established in 1997. Our company is the first professional manufacturer who introduced European advanced tents technology into our own design, selling and manufacture. Our main products are modular Aluminium alloy moveable tents and Aluminium alloy square Pagoda & Summer Gazebo and Folding tent.
9. Packaging & Shipping of the Large Clear PVC Tent
aluminum frame packed in membrane film

hardware packed in solid carton box

roof and sidewall in professional PVC carry bag

...
10. For more information about the Large Clear PVC Tent
Q: Can you print our logos on event Tent For Sale?

Yes.Customized logos can be print on the tent fabric according to your

requirements.
Q: Is that factory price?
Yes.We assure you all prices are based on factory.
Q: Does your tent be able to install repeatedly?
Our tents can be assembled and dismantled and repeatedly with small

transportation size.The lifespan of aluminium framework can reach 15-20

years,and 5-8 years for PVC fabrics depending on different conditions of

usage.
Q: What documents are available?
A full range documents including structural drawings,packing list,installation

manual and relative certificates can be provided.Moreover,customs

declaration is provided.We provide one-stop service for you.
Q: What size tent is necessary for your special event?
A person must first determine tent usage. If a tent is being used for dining purposes and round tables are being used allow 10-12 square feet per person. If banquet style tables are being used allow 8-10 square feet per person.If the purpose is for cocktail service allow five to six square feet per person. Contact us for all your specific questions and more information on tent types.
Q: Has your tent product been certified?
Yes.Our tent product has passed the engineering tests and gained the America And Australia structural engineering certificates. Besides, the PVC fabric used for roof covers and sidewalls has passed the fire tests and gained the flame retardant certificates issued by America, Australia, New Zealand, and Britain.
Q: Is your tent strong and stable enough? How about the wind loading?
Yes.The main frameworks (upright support and roof beam) are manufactured with high impact extruded anodized aluminum (6061/T6) so our tent structure is safe and strong and can resist wind up to 100 km/hr.
Q: How long is the warranty period?
Guarantee one year. During the warranty period, we shall repair or replace the damaged part accordingly because of any damage due to quality problem.
The factory and branch company address as below:
Company Name: Zhuhai Liri Tent Technology Co.,Ltd.
Add: No.7 Dongfu Street, Xin Qing Science & Technology Industrial Park Doumen, Zhuhai, Guangdong, China.
Guangzhou branch office: Room No.902, 9th Floor, Jiangwan Business Center, No.298 Yanjiang Zhong Road, Yuexiu District, Guangzhou, China.
Additional Information
| | |
| --- | --- |
| Payment Terms | L/C, T/T, Others |
| Minimum Order | 1set |
| Lead Time Delivery Time | 25 days |
| Sample Available | Yes Ask For Sample |
| Delivery Details | According to the terms of TT, delivery is upon full payment received. |
| FOB Port | Zhuhai |
| Loading Info | FOB Zhuhai, we are responsible for the freight cost from our factory to the harbor and inland shipping. |
| Packing Info | 1. aluminum frame packed in membrane film 2. hardware packed in solid carton box 3. roof and sidewall in professional PVC carry bag |
| Target Market(s) | Africa(except Middle East), Central & Southern Asia, Eastern Europe, Hong Kong/ Macao/ Taiwan, Japan & Korea, Latin America, Mainland China, Middle East, North America, Northern Europe, Oceania, Southeast Asia, Western & Southern Europe |
About Us
Liri Tent Technology (Zhuhai) Co., Ltd.
Liri Tent Technology Co.,Ltd. ( Zhuhai ) established in 1997 is mainly engaging in the design, manufacture, sales and rental of high-quality aluminum clear span structure tent system. Liri focus on meeting all kinds of temporary space demand for large exhibitions, festivals, event activities, sports and logistics warehousing by providing flexible outdoor mobile buildings. As the pioneer of tent manufacture, with 20 years trials and hardships, Liri Tent has been awarded "Guangdong Province Famous Trademark", "High-tech Enterprise" and "Guangdong Province Brand-name Products" in the tent industry. Liri Tent locates in Xinqing Science & Technology Industrial Park, Doumen, Zhuhai, Guangdong, China. Liri Tent has reach total assets of 300 million RMB, nearly 500 employees and 121,600 sqm factory building. In addition, there is branch office in USA, Africa, Southeast Asia, India, China Guangzhou, Shanghai, Beijing, Chengdu, and Changsha.As one of the leading companies in tent industry, Liri continues to promote the rapid development with innovation spirit. Liri Tent passed the Germany TUV ISO9001: 2015 Quality Management System Certification, ISO14001: 2015 Environmental Management System Certification, OHSAS18001: 2009 Occupational Health And Safety Management System Certification, introduced 7S Production Management System in 2007, ERP System in 2008, Bar Code Management System in 2012, Liri realize reasonable and efficient allocation of enterprise resources with advanced software system. Liri Tent is also the pioneer to process tent aluminum profile by robotic welding center, CNC processing machines, CNC cutting machines and PVC fabric by CNC PVC cutting machines. It is the only company in China who imported Germany PVC fabric automatic washing machine, which all improved production efficiency.With the superior production techniques, professional engineering team and the core tent technologies, Liri Tent obtained dozens of national invention patents. Liri Tent has gradually self-developed curve tent series, dome tent series, multi-sides tent series, polygon tent series, cube structure tent series, and double decker series, which total 45 tent series 359 single products. Among them, Liri "Double Decker Tent for Outdoor Events" has been rewarded as the "China Innovative Product", Liri "Mobile Temporary Building—Outdoor Decagonal Tent" and " Thermo Roof Cube Structure Tent" have received the Excellent Prize of "Beauty of Made in China".In 20 years, with its high-quality and safe tent products, as well as efficient, flexible and diversified services, Liri Tent had won great reputations from customers all over the world. Liri Tent products have been exported to over 120 countries and regions and maintained the leading position in tent exporting for 18 consecutive years. Liri Tent is the exclusive tent supplier or sponsor for numerous domestic and international events including:2002-2017 China Import and Export Fair1996-2016 China International Aviation & Aerospace Exhibition2010 Concert in Columbia2010 Guangzhou Asian Games 2010 Oman 40th Anniversary of National Day2011 Le Mans Grand Prix 2011 Shenzhen Universiade Games2012 South Africa ANC Party 100th Anniversary Celebration 2013-2014 China Grand Rally2013-2017 China Cup International Regatta2013 Warehouse Tent for Abu Dhabi International Sea Port 2014-2017 China Open Tennis Tournament2017 Longines Equestrian Beijing Masters2015 Tent Supplier for International IAAF World Championship Beijing2015-2017 Official Tent Sponsor for WTA ELITE TROPHY ZHUHAI2016 LIRI TENT has attended a National Key Research and Development program, which is called "High-Performance Textile Flexible Production and Application".
General Information
| | |
| --- | --- |
| Year of Establishment | 1997 |
| Capital | US$1 Million - US$2.5 Million |
| Sales Volume | US$10 Million - US$50 Million |
| Brand Name | LIRI |
Export Information
| | |
| --- | --- |
| Export Year | 1997 |
| Export Percentage | 81% - 90% |
| Delivery Time | 25 days |
| Minimum Order Quantity | 1 set |
| Payment Terms | L/C T/T Western Union Others |
Productivity Information
| | |
| --- | --- |
| Production Lines | 10 lines |
| Factory Size | 100,000 square meters |
| Monthly Capacity | 100,000 square meter |
| Investment on Manufacturing Equipments | US$101 Thousand - US$500 Thousand |
| No. of Staffs | 501 - 1000 People |
| No. of R/D Staffs | 21 - 30 People |
| No. of Engineers | 21 - 30 People |
| No. of QC Staffs | 11 - 20 People |
Factory Info: Zhuhai Liri Tent Technology C., Ltd.
| | |
| --- | --- |
| Country/Region | Zhuhai, Guangdong, China |
| Address | No. 7, Dongfu Street, Xingqing Science & Technology Industrial Park, Doumen District |
| Zip | 519100 |
| Factory Introduction | Zhuhai Liri Tent is the biggest and most experienced tent manufacturer in China,in 2010, we exclusively provide all the 50,000 square meter tents for Asian Games in 1 month and 2011 also exclusively provide 30,000 square meter tents for 26th Shenzhen World University Games. |