2013 Best Selling Used Copper cable wire recycling machine equipmentLike
FOB Price
USD 18000.0-25000.0/Set
Model
SX-600
Certification
ISO and CE certification
Capable
Moody & environment promotion certification
Min.Order
15
Brief Description
Used copper cable wire recycling machine is developed by our machine , it' s different from our traditioanl type . High purity , no pollution
Manufacturer
No.of Staffs
101 - 500 People
Sales Volume
Below US$1 Million
Payment Terms
T/T
Related Product Category
Recycling Equipments [14]
---
Product Range Main products
waste circuit board recycling machine, waste scrap copper cable wire recycling machine equipment
Target Market(s)
Oceania; Eastern Europe; Africa(except Middle East); Hong Kong/ Macao/ Taiwan; Latin America; Japan & Korea; Mainland China; Western & Southern Europe; Northern Europe; Central & Southern Asia; Middle East
Product Details
Company Profile
Basic Specification
| | |
| --- | --- |
| Voltage | 380v 50hz |
| Name | Used copper cable wire recycling machine equipment |
| Type | Other |
| Power Source | Electric |
Detail Description
2013 Best Selling Used Copper cable wire recycling machine equipment
1.patents of the used copper wire cable recycling machine
1.1)An utility model patent certificate of granular electrical conductors and non-conductors separation device patent No.ZL200720089238.1
1.2)A utility model patent certificate of printed circuit board recycling wind pressure separator
patent No.ZL200720089239.6
1.3).the environmental promotion certification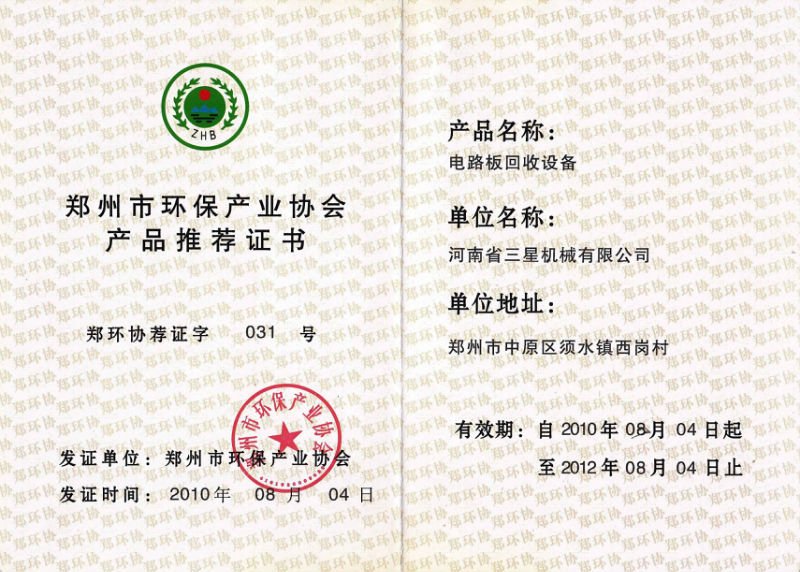 2.Brief introduction of the used copper wire cable recycling machine
aluminum cable wire recycling equipment (also named waste electric wire and cable recycling equipment) is a kind of machinery used to crush waste copper wire and separate copper and plastic. Since the copper separated seems like rice grains, the machine is also called copper wire crusher, which is one of environment-friendly type equipment.
3. used copper wire cable recycling machine Separation Methods of Copper Wire Crusher:
Dry-type copper-wire crusher: The so-called dry-type copper-wire crusher uses a separation method without adding water during separating and selecting process. This kind of copper-wire crusher uses the machine with an environment-friendly separation method, such as air flow separator, air shaking table or electrostatic separator. The main technological process is: crushing-air flow separating and selecting-(electrostatic separation)-dust collection (electrostatic separation rarely used on copper-wire crusher now).
Widely be used in the auto wire ,communication wire so on, the diameter is under 40MM
all kinds of cable and not could be stripped cable and wire could be fed into this machine, after shredding ,the vibrating and high voltage electrostatic separator has been installed in this machine .this machine could separate the copper and plastic respectively .could be comprehensive utilization and the benefit
is higher ,do dust no pollution .our waste copper wire recycling machine is add 3 sets
machine than other supplier (specialized shredder , elevator ,high voltage electrostatic separator ).only can we do
there is no plastic in copper .other company copper wire recycling machine just to the
vibrating separator (the plastic separate not clear) . it known to all the plastic contain copper do not have the collector wanted this material . so if you want to sell the plastic ,which is the price USD450-500/Ton,May you please make a carefull consideration
4.Equipment characters of used copper wire cable recycling machine
4.1).this equipment uses our self-owed triple dust collecting unit ,including three-steges ,cyclone ,cloth bag and air cleaner dust collectors ,which can effecitively sovce the dust pollution problem
4.2).the quipment uses the dry crushing and pulverizing to process the waste cable and wire into metal and non-metal mixture like plastic,then the metal and plastic are separated through high pressure electrostatic separator
4.3).the metal and plastic separatation and recyclijng can be completed under multicomputer controlled one-time batch-feeding for crushing and automative conveying ,sound insulation technology and cooling system
4.4).the equipment is cahracterized by little noise,large output and high innovation,after separation ,the original quality of copper remains and plastic is recoved to produce great economic benefit
4.5).the copper wire crusher ,pulverizer and separator ,are characterized by high innovation and advanced and reasonable technological line
5. Technology date of the used copper wire cable recycling machine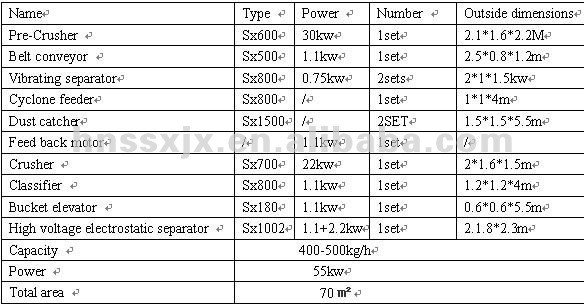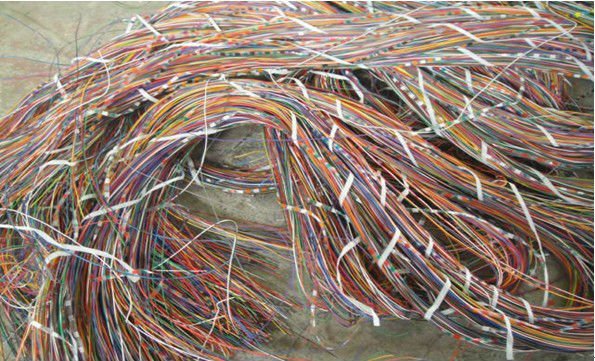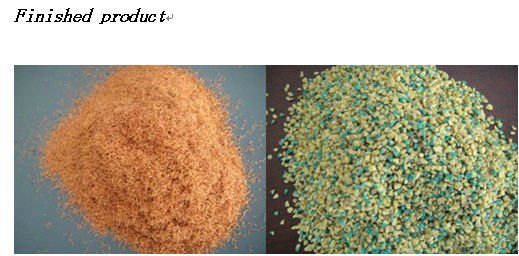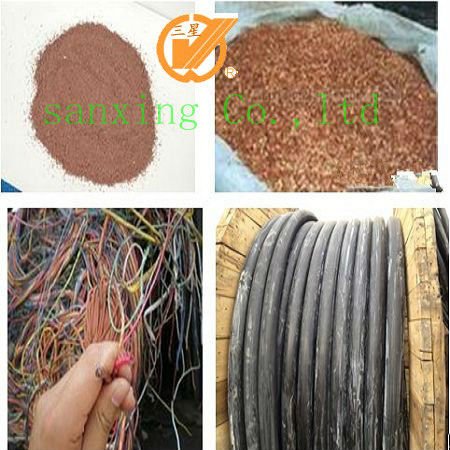 Additional Information
| | |
| --- | --- |
| Payment Terms | T/T |
| Minimum Order | 15 |
| Lead Time Delivery Time | 15 days |
| Sample Available | No |
| Delivery Details | 10-15 days after received the t/t 30% deposit |
| FOB Port | Qingdao |
| Loading Info | we need one 40HC to load the machine |
| Packing Info | Plastic package or wooden case or standard packing |
| Target Market(s) | Africa(except Middle East), Central & Southern Asia, Eastern Europe, Hong Kong/ Macao/ Taiwan, Japan & Korea, Latin America, Middle East, North America, Northern Europe, Oceania, Southeast Asia, Western & Southern Europe |
About Us
Henan Province Sanxing Machinery Co., Ltd.
Henan Province Sanxing Machinery Co.,ltd is specialized in manufacturing ,researching and developing breaking plant .it's the sole enterprise ,which has the Intellectual Enterprise 【Utility model patent certificate of the granular electric conductors and non-conductors separating device ,specialized pulverizer ,and the three-in-one dust catcher patent 】We has been adhering to the business thought of "Quality thrives Enterprise", pursuing the service aim of "Customer Satisfaction" and taking "Good Faith, Practice and Reality" as the foundation of our management .our company has won many awards form the government technical supervision department, such as "Trustworthy product Quality", "Good Credit of After-sales Service ",etc.We have the proto welcome visit our factory and test our machine, wish we create a better tomorrow hand in hand together!
General Information
| | |
| --- | --- |
| Year of Establishment | 2000 |
| Capital | US$101 Thousand - US$500 Thousand |
| Sales Volume | Below US$1 Million |
| Brand Name | sanxing |
Export Information
| | |
| --- | --- |
| Export Year | 2005 |
| Export Percentage | 31% - 40% |
| Delivery Time | 15 days |
| Minimum Order Quantity | 1set |
| Payment Terms | T/T |
Productivity Information
| | |
| --- | --- |
| Investment on Manufacturing Equipments | US$5 Million - US$10 Million |
| No. of Staffs | 101 - 500 People |
| No. of R/D Staffs | 11 - 20 People |
| No. of Engineers | 5 - 10 People |
| No. of QC Staffs | Less than 5 People |